our food
Authentic & Delicious
los tacos
Served on double corn tortilla. Choose from: pastor, chilorio, chicken or veggie. Accompany with onion, cilantro and salsa. Freshly made and cooked to perfection.
los burritos
Large flour tortilla packed with all the goodies inside: rice, beans, lettuce, sour cream, salsa, avocado, cheese and your choice of chicken, pulled pork or veggie. Two hands needed to eat this baby.
las quesadillas
Melted cheese inside a large flour tortilla cooked till golden brown, served with your choice of chicken, pulled pork or veggie. A touch of sour cream and fresh salsa to bring it up a notch.
el ceviche
From the beaches of Acapulco comes this famous ceviche. Prawns, onion, cilantro, lime, avocado and salsa bruja – witches sauce. Served in a tall glass with a long spoon.
Las Tostadas
Seasonal Only – Two large flat tortillas topped with beans, your choice of protein, lettuce, cheese, sour cream & salsa. In that order, bottom to top.
Los Fish Tacos
Oh my! Grilled basa with our signature mango-coconut sauce, chipo-mayo, cabbage and pico de gallo on a flour tortilla. One of our signature dishes.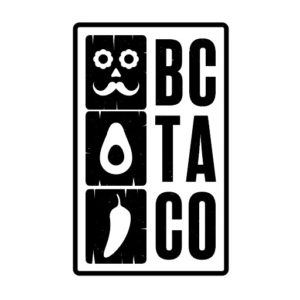 BC TACO - our story
Founded in 2016 from the inspiration of a Mexican couple living in Port Moody, BC.
This is what we do and the clients we serve.
We can cater your events within the Lower Mainland. Send us the date, address and number of guests and we'll gladly send you a quote.

We participate and work with Cities to bring delicious food to their residents. We've had huge success participating in City events.

On-site or on-location we cater to film studios and crews within BC's Lower Mainland. Also, rent our truck for filming.

Available for BC Music Festivals, Large crowd events and weddings.
interested in hiring us? fill out the form below